Salt & Sand Spreaders
6.5 & 8 ft. V-Box
Spread ice control materials quickly and easily with an efficient Hiniker Spreader. Snow removal contractors looking for additional profits will find them in ice control. Private users and municipalities will benefit from the labor saving efficiency of the wide 25 ft. spread pattern. And a big 1.50 or 1.80 yard capacity means you'll spend your time productively, rather than constantly reloading.
• Available in stainless steel (6.5′ & 8′) or carbon steel (8′)
• New swing-away spinner chute for easier unloading and improved trailer hitch access
• In-cab electric control of starter, throttle, and clutch functions
• Briggs & Stratton Intek AVS OHV engine
• Optional easy-access hinged hopper grids
• Spread salt, sand, or chips quickly and easily with a Hiniker high-capacity 1.5 or 1.8 yard V-box spreader.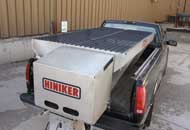 Optional 2 Piece Hinged Screens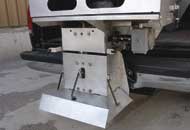 Easily adjustable deflectors allow customized spread patterns up to 25 ft. wide
A convenient swing-away spinner chute provides faster cleanout and easy trailer hitch access
HOPPER
Formed and welded with continuous electric seam welding on the inside of hopper. The top edge is formed for rigidity. Side slope of 45 degrees allows smooth material flow. An adjustable self-locking feed gate with lever is standard
SPINNER
14-gauge spinner chute assembly with  three external adjustable material deflectors provided to control spread pattern. Spinner disc is 12-inch diameter with three welded fins. Spinner shaft of 3/4″ diameter steel is mounted with sealed, self-aligning bearing.
CONVEYOR DRIVE
Briggs & Stratton Intek OHV air-cooled, single cylinder, four-cycle engine is mounted on the rear of the spreader. The engine is equipped with an air cleaner, 12V battery, 12V electric starter, and electric throttle control. An in-cab control panel has engine start, shut-off, throttle, and clutch control functions. A hinged engine hood fully encloses the engine. An electric clutch engages and disengages the drive sprocket. Power is transferred to the gear case through roller chain and sprockets.
GEAR CASE
The conveyor gear case has a cast-iron housing. A precision-machined, hardened and ground steel worm gear drives a heavy-duty bronze spur gear. Both gears and bearing run in oil and are sealed from contaminants
CONVEYOR
Heavy-duty, self-cleaning, heat-treated pintle chain with 24,000 lb. tensile strength. Two screw-type adjusters are provided to take up chain slack.
OPTIONAL EQUIPMENT
• 2 Piece Hinged Hopper Screens
• Adjustable Inverted "V"
• Ratchet Strap Tie Downs
• 12-inch Side Extensions
• High-mount Brake Light
Hiniker Spreaders Specifications