Get Professional Performance
The 7000 Series Conventional Snowplow
The 7000 horizontal-truss moldboard design provides incredible strength, durability and resistance to bowing. Ten laser-cut support ribs add exceptional vertical strength. The corrosion-proof poly moldboard is dent-resistant with less surface friction for easier plowing and greater efficiency. In addition, impregnated color means long-lasting, good-looking appearance.
View High-Performance Plow Literature (PDF)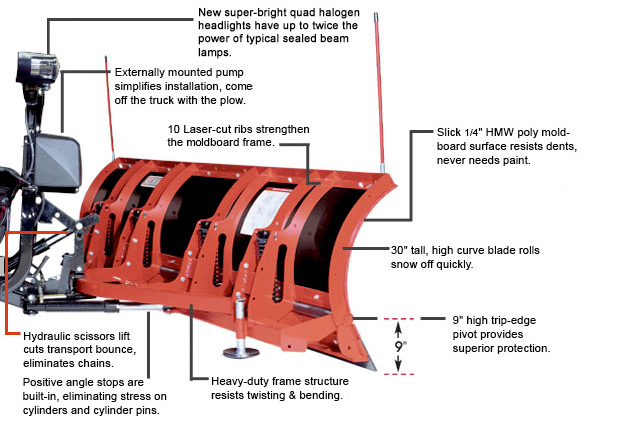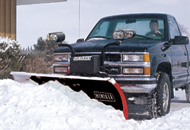 Commercial plowers will appreciate the extra strength and efficient design of the 7000/8000 Series plows.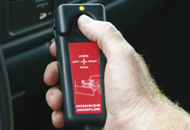 Convenient, compact joystick control mounts anywhere or can be hand-held.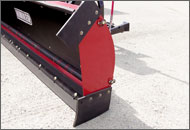 Optional clip-on box ends reduce spillage in both forward and backdrag positions. C-Plow shown with optional rubber cutting edges.
7000 Series

Conventional Snowplow Specifications
BLADE
WIDTH

BLADE
HEIGHT
MOLDBOARD
SURFACE
VERTICAL
RIBS
COMPRESSION
TRIP SPRINGS
PLOW
WIDTH @
30º ANGLE
CUTTING EDGE
(HIGH CARBON
1084 STEEL)
TRIP
HEIGHT
PLOW
WEIGHT
(LBS)*

8′

30″

1/4″ HMW POLY

10

4

83″

3/8″ X 6″

9″

733

9′

30″

1/4″ HMW POLY

10

4

93″

3/8″ X 6″

9″

767

* Weight net of truck-mounted hardware.
Optional Equipment

Rubber Snow Deflector
Molded Poly Snow Deflector
Rubber Cutting Edges
Clip-on Box Ends
Flexstand Controller Holder